Tigerlily is part of the Chanel Spring 2012 collection. I took a risk ordering this colour because I'm not sure whether it will work for my skin tone but when I saw Temptalia's swatch, I was sucked in by the orange colour.
I will have to say that I do not love the Soft Touch eye shadow formulation. Although they are pigmented and blend well, they do not have that almost creamy feel unlike Burberry eye shadows. But Chanel comes out with more interesting shades such as Beige Lame which I can't help but buy.
Tigerlily is a juicy orange shade with subtle gold sparkle. When Tigerlily hits the sunlight, it is all kinds of gorgeousness. I tried to capture that beautiful sparkle on camera, unfortunately it just would not show up.
I wished they had more gold sparkles added into it, that would make this colour amazing.
It is definitely not a colour to wear on its own. I don't think I will be wearing this as a wash of all over lid colour. It is more of an accent colour that I can use on the inner corner of my eyes or maybe as a contour colour.
For this look, I used Tigerlily on my whole eye lid over and above my crease. I used my khaki shade from my Shu Uemura Mika Holiday palette on my outer corners blending up and above my crease. Virgin from my Urban Decay Naked palette as a brow highlighter and for blending. Urban Decay 24/7 liner in Stash for the top and outer corner of my lash line and Eldorado for the lower inner corner of my lash line. Finally I added a dash of gold on top of Tigerlily, from the gold of my Chanel Tokapi quad.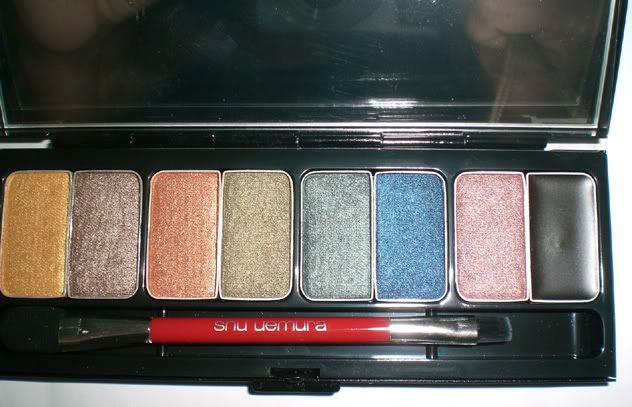 I am happy with how the look turned out. I hope you do too.
Tigerlily is one of the shades which I find harder to use. In the sense that I need to think about how to pair the colours so that it would look great and I am such a noob at it still. I would not say that I am really enjoying this eye shadow as much as I hoped. For its price I has hoped it would be amazing but some how it falls a tad short.