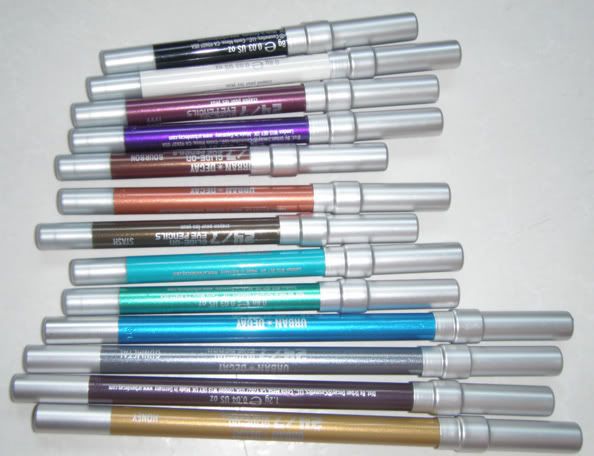 I just bought another

Urban Decay

Eye Pencil.

Yipee

!
I looked at my mug carrying all my eye and lip pencils and realised they were overflowing. Anyway, I thought I would do some swatches to help you dear reader decide which pencils you like.
I'm repeating this like a broken record. I love

UD

Eye Pencils! They are the only things that will stay on my waterline. They are soft and creamy and both smudge and water proof. They are great on their own and they make excellent bases for your eye

shadows

too.
From left to right:

Yeyo

(metallic white), Gunmetal (gunmetal with teeny silver glitter) and Zero (zealous black)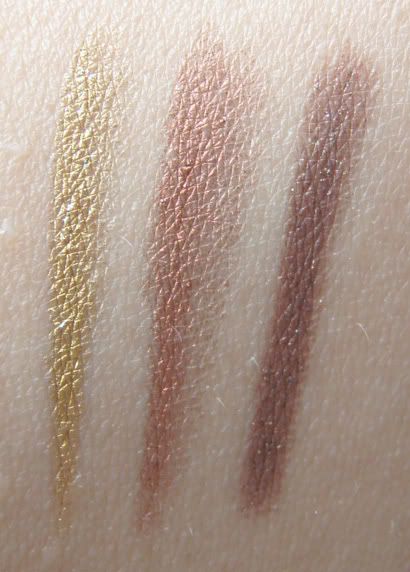 From left to right:
Honey (24k gold), Lucky (brilliant deep copper) and Bourbon (brown with teeny gold glitter)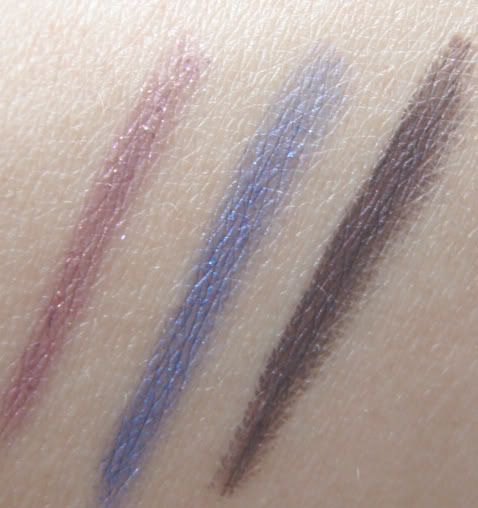 From left to right: 1999 (plum with teeny gold glitter), Lust (deep purple with subtle silver glitter) and

Rockstar

(darkest eggplant).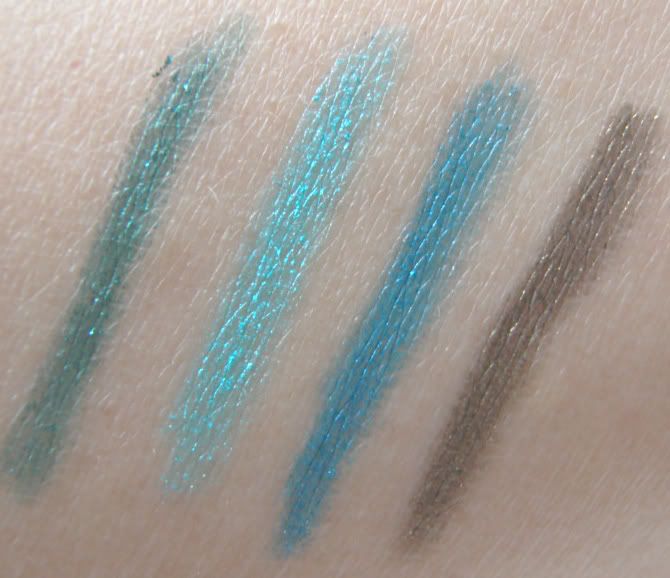 From left to right: Covet (peacock green), Electric (bright aquamarine), Deviant (bold blue) and Stash (dark green gold)
Incidentally, I'm very excited about Urban Decay's Fall collection. They have a new product called Ink For Eyes that looks absolutely stunning.
It comes in 6 colours and it costs USD $22 for 2.5 g.
Binge (midnight blue)
Demolition (brown)
Empire (eggplant)
Loaded (deep green)
Pyrotechnics (iridescent glitter with clear base)
Zero (black)

I really love the packaging and the fact that it comes with a dual ended brush, one for sleek
straight
lines and another for smudging. I just wonder how it will last on my oily lids.