I took out my long neglected MAC Fluidlines to swatch.
After swatching them, I had to throw away Dipdown and Macroviolet. They were dried up.
I like using fluidlines under eye shadows for dramatic smokey looks.
Unfortunately, MAC Fluidlines do not last very long on my oily lids. They do smudge after a few hours. However, I like that they produce really nice bold shades.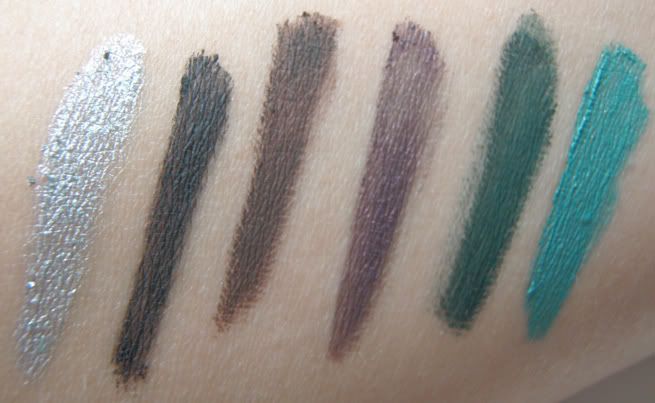 Left to right: Silver Stroke, Blacktrack, Dipdown, Macroviolet, Shade and Jade Eye.
MAC Fluidlines come in cute little glass jars. When you open the caps, you should close it quickly before you begin application. I have had these for quite a few years, Dipdown and Macroviolet being my first few buys so it is safe to say they won't dry out in two years unless you leave them out in the open.
Since buying Blacktrack, I found some even better alternatives that last better on my eyes.