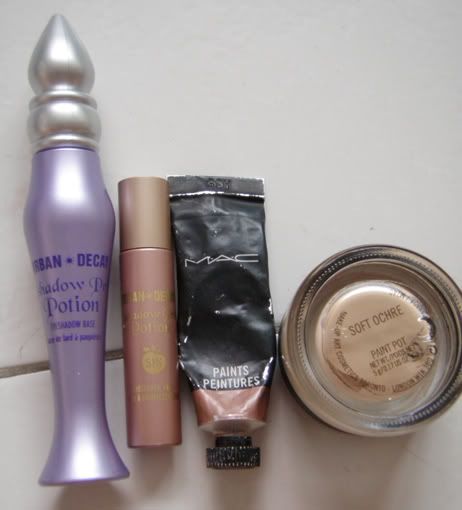 I always use a eye shadow primer to help my eye makeup last longer. I start work at about 7 a.m. and normal end work at 5 p.m. I don't have the luxury of constantly retouching my makeup.
Eye shadow primers not only help makeup stay put, they make eye shadows look brighter, more vibrant.
Urban Decay makes the best primer by far. Many people have complained about the genie bottle design. I have experienced cutting the tube out to scoop out product hidden in its nooks and cranies. There is a lot of product even if you think you have finished it. Unfortunately, once taken out of its tube it dries out quickly unless you get yourself air tight containers.
Thankfully, Urban Decay has heeded the grumblings made by consumers and redesigned its wand to facilitate removing product from the nooks and cranies.
I used UDPP as a base then layer on either MAC paint pot in Soft Orche on top to bullet proof my eye make up. I like using Bare Canvas on my brow bone as a highlight.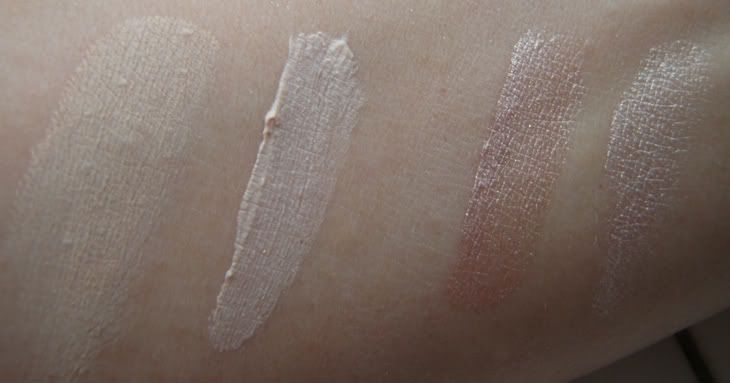 Left to right: MAC Paint Pot Soft Orche, Urban Decay Primer Potion not blended (just to the right which looks like a gap is actually UDPP blended into a transparent finish), Urban Decay Primer Potion Sin and MAC Paints in Bare Canvas.