I love blushers. I'm going to do a series on blushers and show you all the types I have. Do some brief reviews and

hopefully convince you to try them

.
Blushers are an instant way of giving colour to your face. When applied correctly, it completes your look, highlights your cheek bones and gives it subtle contours.
Many ladies have a tendency to pile on their blushers. Too obvious blush is not flattering at all. To apply blush correctly, you need good lighting. If you apply blush in an area that is is too dark, you run a risk of having clown cheeks. Always remember less is more, it might look like you have applied blush too lightly but sometimes in the sunlight, it looks just right.
I love cream, gel and liquid blushers because when applied, they help you

achieve

a just flushed look. They give the most natural finishes. When applied under powder blushers, they help blush stay on for a very long time.
You can apply cream blush with a brush but I find that using fingers gives you the most natural finish. Your fingers help to warm up the blush and helps it to glide most easily on your cheeks.
Pink blushers are a great way of "sweetening" your look. If you are going for a pink cheek look, generally you should keep your eye makeup simple. Your

pink

cheeks

should

be the main focus. Top it off with pink lips, you will look fresh and young. For a perfect spring look, you can pair pastel colours such as greens, blues and violets or even nude eye looks. You should emphasise the lashes. This would make your eyes look bigger.

You

can do this by lining your top lashes with a dark brown or black eyeliner (gently smudged) and applying your lengthening and

volumising

mascara.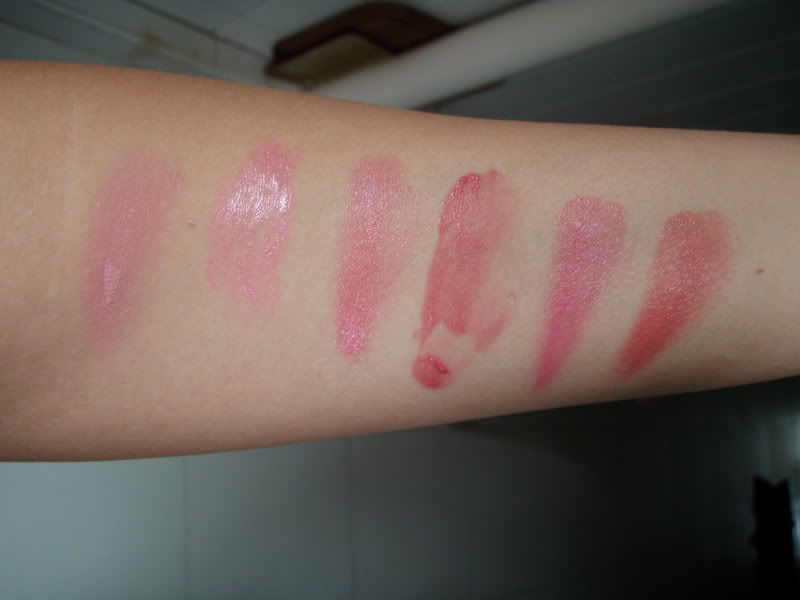 At the
moment I have 6 pink cream, gel and liquid blushers.
From left to right:

Stila

Rouge Pot in Lotus,

Benetint

Posietint

, Becca Creme Blush Amaryllis, Becca Beach Tint Watermelon, Bobbi Brown Pot Rouge in Pink Raspberry and Flushed Pink.
Stila

Rouge Pots are cream to powder finishes. They work well over or under powder. I don't like their packaging though. The opening is really small. When I use my fingers to scoop up some product, it usually gets under my fingernails. It is really tiresome. I use a q-tip to scoop it up. Lotus is a cool light nude pink with a

matt

finish. I always pair this with dark smokey eye looks.



Posietint

doesn't get much love from me. It is a liquid blush so it is best to apply this before your loose or pressed powder. It comes with a little brush which you use to dab on the apples of your cheeks. Then with your finger lightly dab it. It dries very quickly. It is a brighter pink with a

matt

finish. Because of its consistency, it doesn't show up on medium and dark

tones like

myself. This is one solely for the fairer ladies.
Becca Creme Blush in Amaryllis has the best textures by far. It is a wet creamy blush that glides

effortlessly

onto your skin. It

looks

great under powder as it gives a more natural look but it you want it to be more obvious, apply it over powder. It is a warmer pink that is more suitable of medium tones.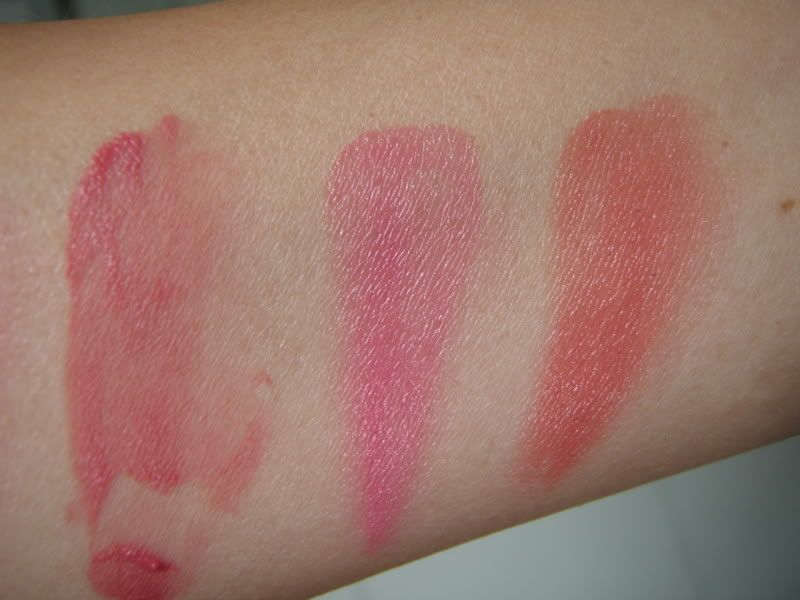 From left to right: Becca Beach Tint Watermelon, Bobbi Brown Pot Rouge in Pink Raspberry and Flushed Pink.
Becca Beach Tint in Watermelon might look really scary swatched but it sheers out to a nice pink red blush. This is best applied under powder. You need to shake the tube vigorously first to ensure the mixture inside is well mixed. Squeeze a little and dab them on your cheeks. It has the loveliest watermelon scent.
Bobbi Brown Pot Rouge are creamy but not suitable for dry skins. They can be a little tough to blend so be sure your skin is well moisturised first. They are very pigmented. I usually just gently dab the pot to pick up colour and dab them gently on my face. No rubbing because it will spoil your foundation. These pot rouges come is a wide container which makes it easy for you to dab your fingers into the pot. You can also try using a fibre optic blush brush like MAC 187 to apply them. This will ensure a lighter more natural finish.