I was just reading last week's Urban issue. It was talking about how Asians don't really use bronzers. In fact some makeup companies remove bronzers from their summer collections when introduced in Singapore because they don't sell well.
I only discovered my love for them last year. If you find the right shade and apply it correctly, bronzers highlight your cheek bones and make you look slimmer. The trick is not to apply too much and finding one that doesn't look too orange on you. You don't want to look like an oompa lumpa.
Always use a fluffy large blush brush for application. Gently sweep brush onto pan and tap the excess. You apply bronzer in a number 3 pattern. First on your forehead down to the hollows of your cheeks (make a fishy face) then moving down to the sides of your chin. Then you do a reverse number 3 on the other side of your face.
To avoid looking dull and flat, adding peach or pink blushers on top of your cheeks makes your look healthy and pretty.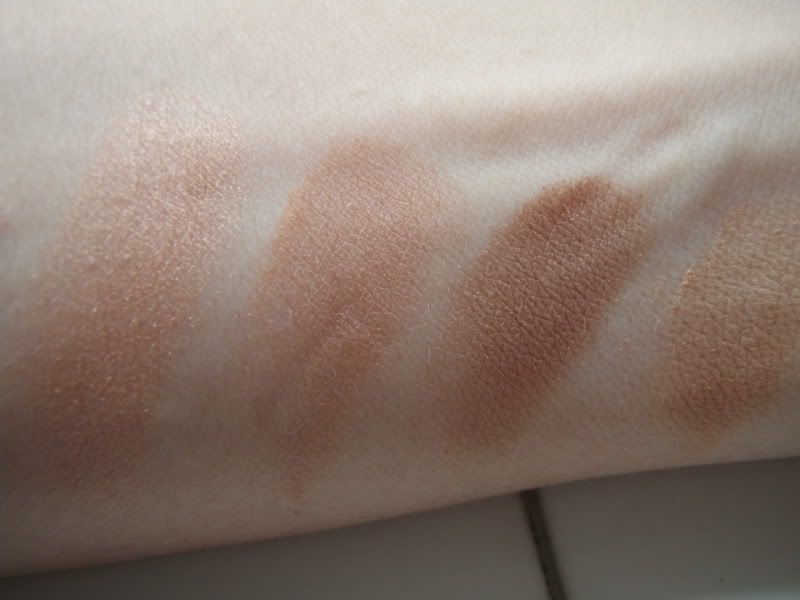 These are some bronzers than work for my NC 30-35 skin tone.
Left to right
MAC Warmed MSF, Urban Decay's Toasted Bronzer, Nars Laguna and Becca Flamenco.
Laguna does look really dark swatched but when used with a gentle hand it looks really good together with Orgasm. I can't tell you which one I like best, I love them all. I rotate them to ensure that each gets equal air time.
If brown tones don't appeal to you, Bobbi Brown has some great choices for first time users. They just introduced their Illuminating Bronzers.
Taken from the website:
This ultra-soft and smooth pressed powder is formulated with a unique and innovative blend of sheer powder and micro pearls. Powder glides on evenly and gives skin a seamless and sheer natural-looking glow.


It comes in 6 shades.
Antigua (Pink Bronze) as shown in above picture
Bali Brown (Golden bronze)
Aruba (light golden bronze)
Barbados (Warm deep bronze)
Bahamas (Deep golden bronze)
Maui (Pink Coral Bronze)

I think I might really like Antigua and Maui. They probably can be used a blushers too.