I use MAC Paint Pots as eyeshadow bases instead of eye shadows. They are slightly long lasting. I find that if I layer it with powder eye shadows, they last for a long time. These are really good when you pair them with MAC loose pigments. A MAC MA has shared that to make pigments stay put, you have to quickly pressed the loose pigment onto the cream shadow. The cream shadow holds powder shadows well.
They are quite pigmented and the darker shades can be used as eye liners too. But they may not last well as eye liners.

Blackground (Black-grey with multi-colour, pearl)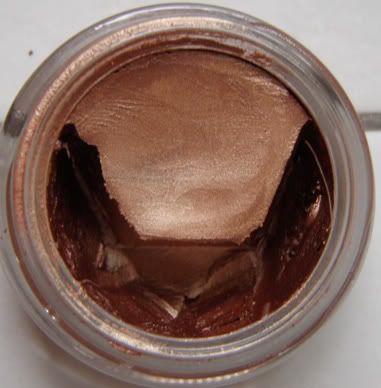 Indianwood ( Metallic antique bronze, frost)
This looked exceptionally stunning with MAC Woodwinked eye shadow.

This looks really good when paired with MAC Teal pigment.