I swear I was just going to peep at it. I even walked away and told the SA I would think about it. Seriously! But... I was thinking about it the whole time I was grocery shopping, I went back rather shamefaced to the same SA and succumbed. I had a really hard time chosing which palette to take home. Secret Luscious Rose is really gorgeous too. Adorned Marguerite has many sweet colours but looked rather chalky. Honestly, I couldn't justify laying $230 for two palettes so I bought one for now. This thing cost me $115. Gosh it is expensive.

Luscious Rose has the nicest cover for sure. Winter Sakura was the palette that was sold out at Nordstrom, Sephora and Shu Uemura website. I figured if I really wanted Luscious Rose I could still get them there plus it would be cheaper. It is going for $65 US.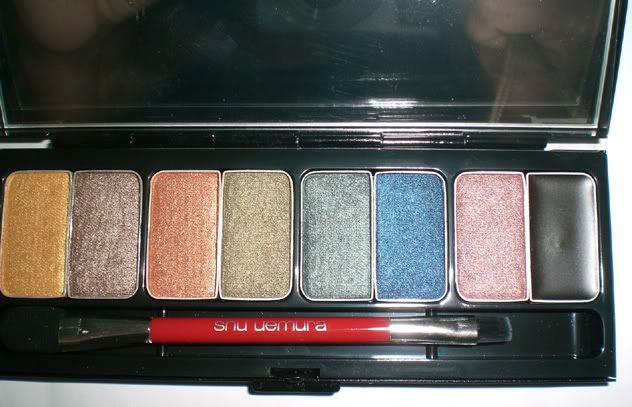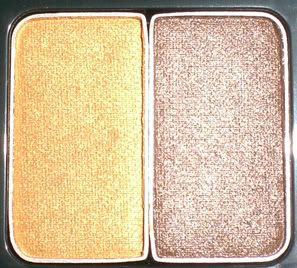 This tiny palette comes with a duo sided brush, one side being a sponge applicator and another a brush for applying eye liner. I tried this palette out for the last two days. Yesterday I used the Copper Bronze and Khaki Green duo. Today I tried the Warm Gold and Brown duo. The shadows are very pigmented and soft. They lasted quite well considering I had them on from 7 a.m. in the morning till 6.30 p.m. There was some fading in the evening. This happens to all my makeup, by the end of the day you can hardly tell I have eye makeup on. The colours are very suitable for my warm skin tone. The black creamy liner (the one on the far right) is not a strong black that I hoped it would be. It is sheer. You need to go over a few times before if becomes a black black. Morever, it isn't long wearing and smudges like crazy on me. I think I'll stick to my Clinique liner. Overall, I'm very pleased with this buy. The colours pair up well and are in my opinion work safe colours. Can't wait to try the teal and dark blue colours though.