Foundation is something we should never skimp upon. A good foundation doesn't clog up your skin and cause break outs. It is a perfect match to your skin tone. When applied, looks like you aren't wearing any but still gives you a "you are having a great skin day" look. It is a canvas for you to apply other products to give you colour.
My personal opinion is that liquid foundation gives the best natural look.
During the course of everyday life, I've seen too many ladies who either wear foundation that is too light for them or look like they have piled on too many layers of foundation on them. Sometimes I wish I am brave enough to set them aside and tell them the truth. Not that I'm a makeup guru or anything but I definitely would appreciate it if someone does that the trouble to tell me if something just isn't suitable for me.
I always had problems with foundation. A couple of years back, I suffered from serious bouts of adult acne during and after my pregnancy. It left me with numerous acne scars all over my forehead, temples and cheeks. They were red and

unsightly

. I never felt more depressed in my life. Back then, a good foundation meant super duper coverage with super human oil controlling properties.
Fortunately, things have picked up for me. Finding the good dermatologist was the best thing that happened to me. Under her expert care, my scars are much lighter and my acne is under control. Right now, I only need medium to light coverage although oil control is still something I battle with.
I have a few foundations on rotation. Chanel's Pro Lumiere in 40 Beige which I use for nights out,

Coogi

BB cream and Sasa

HD

Foundation in 03 Vanilla Beige for very light makeup days. For your reference I'm also a NC30-35.
This is my currently love. It has now been moved to HG status because I really really love this. This was another one of my excellent hauls in

Hong

Kong. It is also much raved about in

Makeupalley

. You can see the reviews here.
Description from the website:
Lasting Silk UV SPF 20 is spotlight-proof, high-resistance makeup. Inspired by extreme backstage conditions, this revolutionary new water-based foundation provides 14-hour luminous matte coverage without the coverage feel.
Because it is water-based this has a thinner consistency as compared to Chanel's Pro Lumiere foundation. It is very easy to blend. I pump once and use my MAC 190 foundation brush to apply to my skin. It sinks into my skin and feels so light and airy. The SA chose the shade 7 which is a very good match for my skin tone.
You can see comparison swatches of the different shades at Karla Sugar. Unlike my Chanel foundation, this gives me a little glow instead of a powdery matt look. It doesn't look greasy though. It controls oil production well. I found that I did not need to blot at all for the whole day. One pump dispenses the right amount for a minimal and natural coverage. Two pumps gives me a almost flawless complexion. I'm not sure how waterproof this is, for the few days of wearing it, I've not had this streak on me. It costs USD $58 or 340 HKD which works out to be $63 SGD dollars for 30 ml.
Here is a look at a swatch comparison of the different foundations and bb creams I have.
GA on the left and Chanel on the right. Notice that GA is more watery.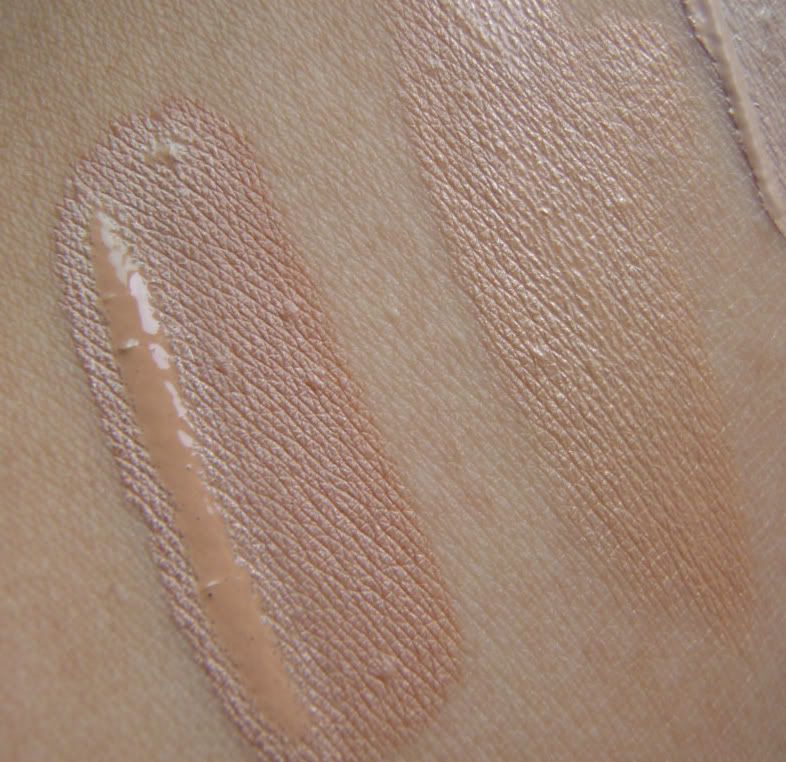 Sasa

HD

on the left and

Coogi

on the right. You probably notice that these two foundations look way too light for me as compared to the foundations above.

Coogi

blends to match my skin tone and I have to admit Sana is a tad light especially after I have spent a day at the beach.
These are all the base makeup placed together for a better comparison.