I'm a little embarrassed by the state of my makeup cabinet. I've been buying stuff and stashing them away. Boxes are lying around all over the place. I don't put my things back after I use them. With the new influx of makeup I had to do some packing.
This is where I store all my makeup. In a Ikea metal cabinet which has 6 drawers. I have to be careful when I pull my drawers. If I pull it out more than half way, the drawer is likely to topple out. I have two more small organisers where I keep my cream eye shadows (MAC paint pots and fluidliners) and liquid eye shadows (Shiseido Hydro Powders, glitter liners, Chanel liquid shadows). I keep my eyeliners and mascara in a glass tumbler.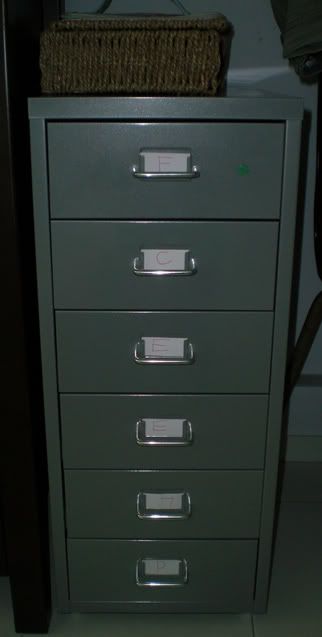 I use the first and top most drawer for my face products.
Primers: Giorgio Armani Fluid Master Primer and MAC Prep and Prime
Foundations and BB Creams: Chanel Pro Lumiere, GA Lasting Silk, Sasa

HD

Foundation,

Coogi

BB Cream, Dr

Jart

Silver and Black Label and

BRTC

Perfect Recover
Concealors

: MAC Select Cover Up and

YSL

Touche Eclat
Face Powders: MAC Studio Fix, GA LP, Sana LP,

Chacott

, Meteorites in Beige Chic, Fresh Rose and Mystic, MAC Mystery Powder
Miscellaneous: MAC Lustredrops
MAC Just A Pinch. Becca Beach Tints in Peach and Watermelon, Becca Creme Blusher in Amaryllis, Bobbi Brown Pot Rouge in Calypso Coral, Pink Flush, Raspberry, Benefit

Benetint

and

Posietint

and

Shiseido's

Accentuating Cheek Colour.
6 pan MAC palette with

Dollymix

,

Springsheen

, Pinch O Peach, Cheek,

Tenderling

and Coppertone, MAC

MSFs

in Warmed, Petticoat and Flushed, MAC

FX

Lavendar

powder, MAC

Apripeach

, BB

Shimmerbricks

is Peony and Rose, Benefit Dandelion,

UD

Toasted

Bronzer

,

NARS

Blush Duo in Orgasm and

Laguna

,

Stila

Mandarine

Mist, Laura Geller Apricot Baked Blush, Becca

Bronzer

in Flamenco (broken to bits!) and a compact mirror.

The third drawer is more miscellaneous things. I have two presents I am supposed to give to two friends but we have not managed to meet up yet. I know its sad! My MAC makeup remover wipes for emergencies and 3 sets of MAC palettes filled with Neutrals, greens and blues

eye shadows

. I'll show you whats inside one of these days.

Dior Iridescent Palettes in Summer Star, Sky Glow and Earth's Reflections. Chanel quad. BB LE Eye and Lip palette of 2008 and 2007.

UD

Get Baked and Deluxe Quad.

Shu

Uemura

Winter

Sakura

palette. Kate Glam Trick palettes in BR1, BR2 and BK1. MAC 2008 Christmas Warm palette,

Aquavert

, Soft Force, 2 pigment samples and 4 quad in

Shroom

, Moth Brown, Freshwater and Cork. My new Jill Stuart Jelly Eye Shadows,

UD

singles in Cult and Purple Haze,

Shu

Uemura's

Metallic eyeshadow in yellow, Make Up Store

Microshadow

in Khaki, Becca Eye Tint in Gilt and a random blue shadow from

Bodyshop

.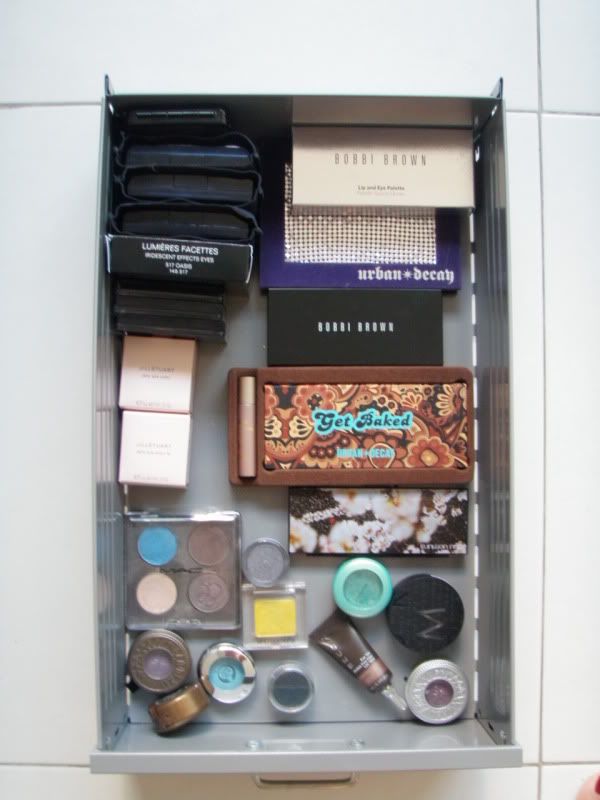 I just recently became very obsessed with lipsticks and gloss so naturally the

number

of stuff grew.

I have

Shiseido's

Maquillage

lipsticks and glosses. Chanel

Glossimer

,

Aqualumiere

and

Hydrabase

lipstick. Numerous Dior Addict High Shines, Lip Glow, Creme De Gloss, Glitter Gloss and Ultra Gloss Reflects. MAC Lustre lipsticks,

Dazzleglasses

,

lipglass

, Creme Sheen and Slim Shine.

UD

Lipstick, Pocket Rocket Lip Gloss and lipstick sample. Other singles

include

JS

Jelly

lipgloss

, GA Shine lipstick,

Clinique

Buttershine

, BB Lip Crayon and

Shu

Uemura

lipstick.

I have 3

sharpeners

, one for lip liners, eye liners and a jumbo one for BB Lip crayons.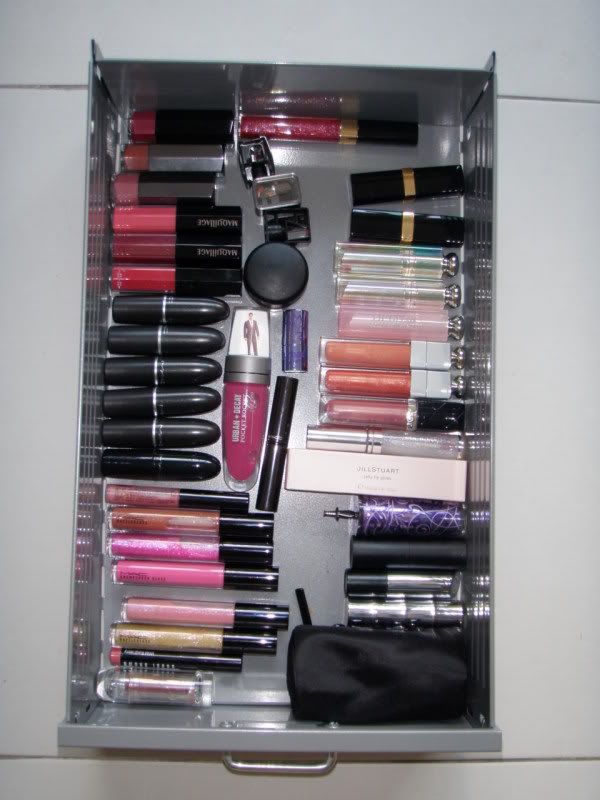 Finally, my pigment drawer. They don't get much love. I'm not even going to try to name what I have.