I have a special love for Urban Decay 24/7 Glide On Eyeliners. As the name suggests, they stay on 24/7, until it is time to take them off.
I'm always looking out for waterproof eyeliners. I have teary and oily lids which guarantees that nothing stays on my eyes for long. I'm sick of my eyes turning into an ugly mess after a few hours. Honestly raccoon eyes aren't in! I go clubbing once in a while and I really love doing smokey eyes. I find that tightlining gives the nicest effect. Unfortunately, all that dancing and sweating ensures that my black eyeliner smudges like mad. It is not a pretty sight. So when I read that these eyeliners stayed put even after being doused with water, I knew I had to try them.
My first buy was the Velvet Rope Travel set. It comes with Yeyo (white) 1999 (plum) Zero (matt black) Bourbon (brown with glitter) and Stash (Khaki Green with glitter). I paid $20.30 USD after the 30% F & F discount. That's about $31 SGD which works out to $6.50 per liner. In addition I bought a full sized version in Rockstar (dark purple) for $11.20 USD.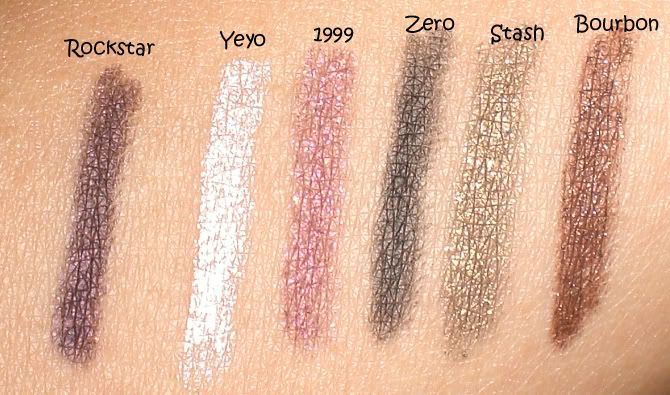 This is what happens when they get rubbed with water.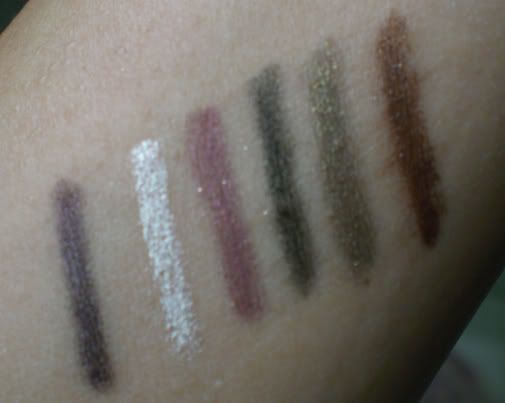 These guys are soft and creamy so they don't drag your eye lids. I read that the trick is to draw and then let it set for a few seconds. I wore Yeyo tfrom 7.30 in the morning till 4 p.m. It was still visible on my bottom waterline. There was slight smudging of Zero on my upper waterline but it wasn't very visible. Stash on my upper eyelids stayed put. Not even when my eyes watered in the morning. I found out that these also make excellent eyeshadows. I did a brown/gold smokey eye using Bourbon smudged on my eyelids then topped with gold glitter. Pretty!

The next time there was a promotion, I decided to get more. This time the vibrant ones. This is the VIP Travel set. It comes in Zero, Lucky Penny (Copper), Covet (Emerald Green), Electric (Aquamarine) and Lust (deep purple). In addition, I bought full sized versions of Honey (24K gold) and Deviant (bold blue).

These eye liners are better that MAC Powerpoints and Lancome's Le Stylo Waterproof. I'm really happy to come across these guys.
There are altogether 19 shades, the ones that come with micro glitter are absolutely wonderful.
Gunmetal (gunmetal with teeny silver glitter)
Underground (metallic taupe)
Grafitti (bright medium green with teeny silver glitter)
I'm eyeing Baked, Dime and Grafitti.