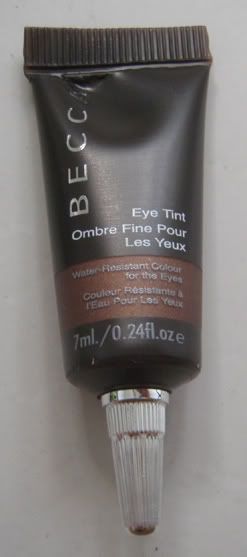 This is the second part of my Becca review.
I bought this based on the good reviews at MUA (Makeupalley). I cannot resist all creme/gel/ liquid eyeshadows. I'm always looking out for something that will last all day or through the night of clubbing. I was attracted to the bronzy and shimmery colour when I swatched it. It was something I had to have.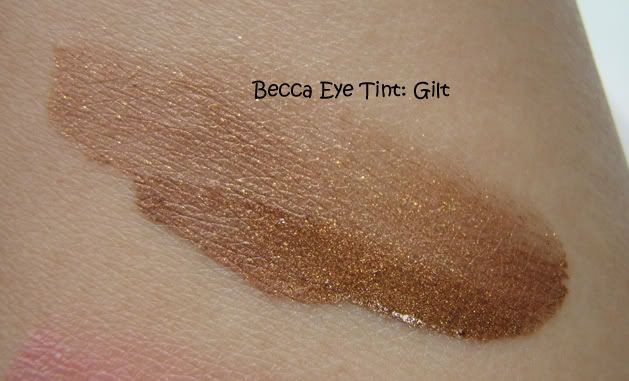 This dries to a powder. The look is more matt with glitter. I'm quite disappointed, I had hoped that it would be shiny like the swatch. It can be layered on for a more intense colour. In fact it can be layered on as many times as you want without it looking like a mess. I find that it is best to let it dry a little before you layer on. Once dry, little specks of gold glitter can be seen but it is not overly glittery. It is supposed to be water resistant but it didn't survive my teary eyes which I tend to get early in the mornings. It also smudges on me a little even when I have added UDPP. Gilt is great on its own but works well as an eye base too. I have been using it with MAC Green Brown Pigment. It is a really unique combination and Gilt shows off the green very well in the pigment. You have to shake the tube very well because the mixture does separate. The new Eye Tints out this Spring are Paracus which looks like a boring taupe to me and Vicuna a pinkish champagne which probably would be great as a brow highlight. I'm looking forward to swatch Paracus. I paid $49 for this. A hefty price tag for such a little tube. If Becca creates a unique enough colour perhaps I will shell out another $49 but for now I think one eye tint is enough for me.

Ratings: 2 lipsticks