I finally made my way to Sephora yesterday while on my way to get meds for my skin. Le sighs, I am having skin issues right now, I don't look and feel my best at this moment in time.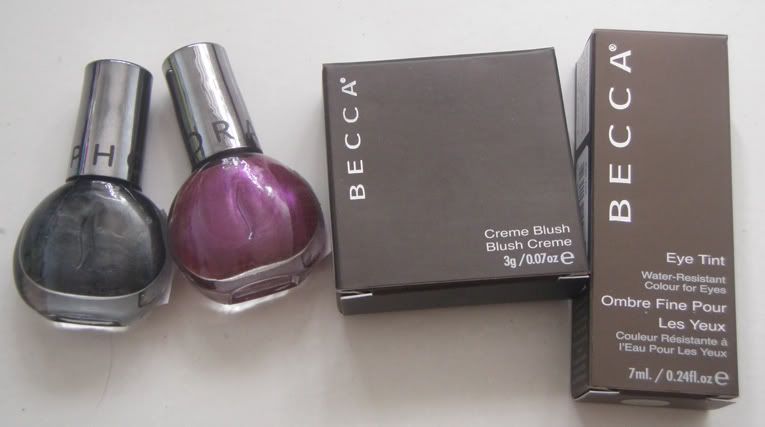 Well it was quite a small shop, unlike the Sephoras in other countries. It didn't carry many new items except for Bare Minerals, Pop Beauty, Too Faced, Bliss and Becca. I heard many people complaining and I am one too. I really want Sephora in Singapore to be sucessful but the brands they are bringing is disappointing to say the least. Number one, I was expecting Nars, Urban Decay and Laura Mercier. I was also hoping that the prices wouldn't be so exhorbitant. I've been buying Pop beauty and Too Faced stuff from Beautycrunch, they are alot cheaper online. If I ever wanted to get Benefit I would order online too, Benefit in Singapore is way too overpriced. If I wanted Clinique or Dior I would go to Tangs, at least over there I would get a rebate so my items would be cheaper. Honestly I don't see the sense in putting stuff that any other departmental store already has. What is the point?The only thing I wanted was the Too Faced Shadow Insurance which was out of stock. (What is new?) And to check out Becca. I had great experiences with Becca and wanted to try out more of their stuff. I heard from MUA (Makeupalley) that their creme blushers were really nice so I tested them out. They were really creamy and moist. Becca itself is really expensive. I don't know why. Is it because it is Australian? I paid $49 for my Amaryllis Creme Blush. It is $30 US on the website. I fell in love with the Eye Tint the minute I swatched it on my arms. Gilt was a really glossy bronze colour. I paid $39 and on the website it was $24.
I also checked out the extentsive Sephora range. Nothing caught my eye except for the nail varnishes. I generally get my nails done professionally, not because I'm a snob because I make a huge mess out of my nails. The colours looked fun and they were $8 a bottle, why not. Anyways after tryig to paint my toe nails with them I decided I'm not loving them. The colours just look odd on my feet.


Well that concludes my trip. I must say that the SA there are attentive and try their best to give good service. But they aren't makeup addicts like moi so have problems answering other than the basic questions. They probably need more time to gain product knowledge. I will probably go back for more Becca Creme Blushes but that's about all. There isn't anything else there that would hold my interest. I seriously hope the guys at Sephora look into how they are going to bring in brands that will attract the crowds.
Sephora rating: 2 lipsticks