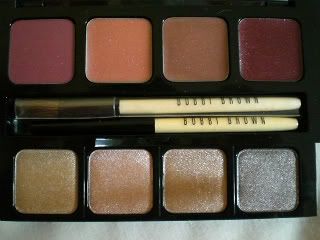 I'm totally into neutral looks lately. I really like my old 2006 Bobbi Brown Lip and Eye palette. The colours go so well together to give me a professional look. BB eyeshadows are very pigments and soft. The lip colours look bright but still manage to look subtle on me. Since my palette is two years old, I thought it would be high time I got something new to replace it.
I was drawn to the new palette by the Metallic eyeshadows. It also helped that there were 4 Creamy Lip Colours. I had been tempted to buy a tube but this palette gives me 4 colours to experiment with.
The eye colours include: Champagne Quartz, Gold Dust, Golden Bronze and Galaxy Metallic Eye Shadows.The lip colours include: Berry Mauve, Pink Sequin, Dusty Mauve and Ruby Creamy Lip Colour.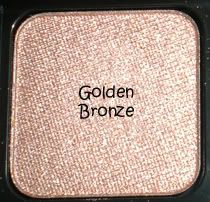 The eyshadows are hidden in a mini drawer which you can pull out. I really love the brushes that comes along with it. BB brushes are always of great quality, even those that come in palettes. This time round, the lip brush comes with a black cap and safely keeps the palette from being smudged by lipstick. I absolutely hate it when I pay good money only to find that the brushes and applicators aren't usable.

Galaxy has the most pigmentation out of the four eye shadows. It is a silvery grey. Unfortunately all of them are very sheer. So expect them to be a sheer wash of colour. Champagne Quartz and Gold Dust work better as highlighters. Golden Bronze works better for me on my lids closer to my lashes. Since these are shimmery eyeshadows, they look great on the lids but I feel that you should pair it with either a matt and satin textured eyeshadow on top. I just wish there was a matt colour in there to complete the look. I find that I'm not able to make use of all colours to do a complete eye, instead I have to rely on my trusty MAC Shroom or Bobbi Brown Brown's Mink for the lid. I'm quite disappointed with the eyeshadows.

Although the lipcolours aren't pigmented unlike the normal BB lip colours, I felt that they help create a softer look. Ruby gave my lips a "just ate a berry" look without being too harsh. Berry Muave gave my lips a rosey tint. I am not able to get Pink Sequin to show up on my lips. Even though they claim that it is long wearing, I don't think it is. I don't mind because reapplying it is half the joy. I did not experience flakey or chapped lips. My lips had a glossy soft shine too it. I really love the textures of the creamy lip colours.
Well I don't really love the eye shadows but I love the lip colours. So I don't feel that this is a value for money palette.